What is the Aquarium Garden DIY Aquaponics Kit?
The Aquarium Garden is a DIY Aquaponics Kit that biologically filters the water and grows plants above and below the water. It launches May 24th here on this page – and also at Indiegogo's crowdfunding website – check this page May 24th to get yours for just $12 – but get in quick as it wont last (regular price $20). The Aquarium Garden can grow herbs, plants and flowers on the water surface but is also worlds first Vertical Garden inside the fish tank. Growing roots out into the water while soaking up nutrients to clean the aquarium twice as efficiently as conventional filters and pumps. The Aquarium Garden converts any aquarium into a garden that can grow plants, herbs and greens and can also grow aquatic plants at different levels in the fish tank as a vertical garden.
Key Benefits
Convert your aquarium into a garden!
Create vertical gardens inside your aquarium
Grow herbs, greens, flowers and house plants in any fish tank
Hassle free food growing – the fish waste fertilizes the plants
No more dead plants, because the plants are constantly being watered!
Self cleaning fish tank using our unique AquaBiofilter™ technology
With your help Ecoplan will raise $20,000 in pledges to make our injection molds and manufacture the first units and deliver them to you, our supporters.
If we raise $20,000 (break even) we will have the required funds to make the moulds and manufacture the system for delivery to you. If the campaign raises more funds beyond the break even point, we will be able to add extra stretch goals for extras and add-ons.
Freshly 3D Printed Product Prototype Below.  Now We Need Your Help To Make The Molds!

Please share this campaign page on Facebook, Twitter, YouTube, Instagram and anywhere possible! Early-bird pre-orders are available now with up to 40% discount on units at a very affordable $12 each. But be quick they are for a limited time only, the regular price is $20. We are also offering some fun Aquarium Converter Kits at 2 for $25 for a limited time. The Aquarium Garden DIY Aquaponics Kit will turn your aquarium into an aquaponics system growing house plants, flower, even food herbs including basil, mint, coriander or cilantro. The Aquarium Garden DIY Aquaponics Converter Kits use our unique AquaBiofilter™ technology, and will fit into nearly any tank and provide three grow plugs per garden module just add seeds or seedlings and your tank will start growing plants!
Our 10 year track record in aquaponics
With our technology – the AquaBiofilter – we've built the largest aquaponics system in the world, a floating wetlands ecosystem, that upcycles nutrients, has grown food for thousands of animals, purified water and stopped China's largest algal bloom.
We also built floating aquaponic wetlands for the Malaysia River of Life program to clean up the capital city's waterways and marine environment.
Aquarium Garden – miniaturising a proven technology
After building the worlds largest aquaponics system, we wanted to do something different, bring this technology to the home and school scale to provide a fun and educational experience for the community and especially kids who don't have access to a garden. So we miniaturised it down into a DIY Aquaponics Kit that can convert any aquarium into an aquaponic garden or a vertical garden inside the aquarium.
The best thing about it its natural!  Nutrients from fish waste cause algae to grow and the water turns green. The Aquarium Garden solves this problem with its AquaBiofilter™ inside, and the plants take up excess nutrients, preventing algae from excessive growth. The Aquarium Garden can reduce cleaning by up to 50% which makes a big reduction in cleaning your aquarium – sure to please everyone in the house or school! It doesn't require soil, and there are no chemical fertilizers or herbicides its a completely biological filtering ecosystem.
The plants are growing in our unique AquaBiofilter™ media and all the fertiliser and nutrients are coming from the fish being upcycled into the plant growth and biofilm inside the AquaBiofilter™. If you add a water snail it will also help dramatically reduce algae overgrowth, and the biofilter ecosystem creates a self-cleaning system, where plants are being fertilized by the fish and plants are always being watered. So no more dead plants in your house with the Aquarium Garden!

We've got to bring back local food growing, and it can all start at home, school or the office, with the Aquarium Garden or Aquaponics Garden.
What We Need
We need $20,000 to build the injection molds and manufacture the units.
Our Offering
40% off products for early birds at $12 per Aquarium Garden, Regular Price $20, or Get 2 for $25!
What Now
We've been overwhelmed with the positive response we are getting for this project. People like Costa from ABC TV's Gardening program has given us some great feedback and many people have been asking when can they buy one of our kitchen gardens.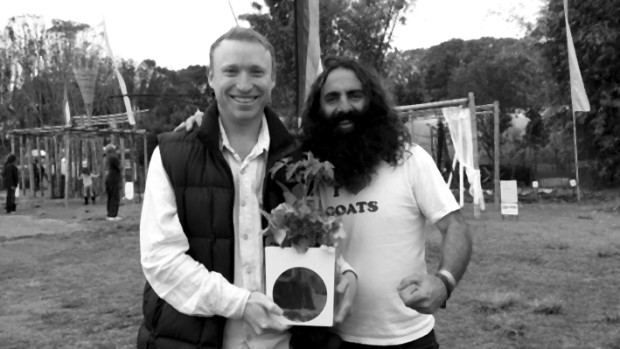 Photo: Costa from ABC Gardening supports many environmental education initiatives – including the Aquarium Garden DIY Aquaponics Kit!
More Aquarium Garden DIY Aquaponics Kit Media
http://permaculturenews.org/2016/05/20/how-to-improve-fish-tank-health-with-aquaponics-systems-and-herbal-gardens/
http://www.noordblog.nl/2016/05/19/137392/
http://permaculturenews.org/2015/01/28/aquaponics-kitchen-garden/
This is where we need your help
The molds and first manufacture run will cost $20,000.
This is where we need your help. If you can, donate $2, $5 or pre-order a system at 40% for a single unit at just $12 including shipping, or better with an education or distributor pack. Suitable for the home, school or office, shop, any small space! Get a group together at your workplace to buy a unit to share in the office. If you are a re-seller or shop you can order a education pack of 4 units or distributor pack of 25 units.
Check out our great rewards for helping to get this project off the ground.
And help us get the message out there – post this campaign or our video on facebook, share it on twitter, blogs and online news outlets, anywhere, it all helps.
Our track record
We have built aquaponics systems all around the world for over a decade, with many happy customers in community, Local and State Governments, private landholders and for enterprises seeking a point of difference for their water and landscapes. We have presented our scientific research at water quality conferences around the world and been published by the International Water Association, reviewed by our peers. We stand behind our products and are proud of our work for over a decade in the sustainable water, agriculture and food sector.
Our products have restored the ecosystem health of lakes, rivers and marine environments that receive run-off from Sydney Harbour to China. Communities across south east Asia have found new purpose and resolve to tackle sustainable food production and beat malnourishment with our training programs in permaculture, integrated farming and water management.
This new step for us is a continuation of our biofiltration technology, the AquaBiofilter, miniturizing it down into the Aquarium Garden DIY Aquaponics Kit. We know you will love it and feel good being part of our mission to improve water quality and bring education opportunities to kids around the world at an affordable price.
Risks & Challenges
As engineers and scientists we have developed a comprehensive quality management system and framework to deliver products globally on time, every time. Our clients include Government agencies around the world, who demand a high level of technical and logistics capability. We are experienced manufacturers and product providers, with skills and capabilities that ensure our products will be delivered to customers on time. Manufacturing, fulfilment and product tracking has been established with service providers and is ready for the Aquarium Gardens Kits to be sent out at the end of the campaign. Shipping risks do exist, but a lot of research and real world testing of providers has established reliable partnerships. We already ship our products around the world, entire shipping containers full of aquaponics systems, floating wetlands and floating islands.
If we do not reach our goal of $20,000 we will still deliver an Aquarium Garden to each contributor with our existing business resources. We can economize on costs by leveraging our shipping relationship. We are ready for all outcomes and will ship an Aquarium Garden to you within 3 months of campaign being completed.
Please share on Facebook, Twitter, YouTube, Instagram, Pinterest, blog, articles – it all helps!
The Social Impact
We believe that kids should have access to learning opportunities about the environment and how it works from an early age. We want to create a social movement that develops eco-literacy in schools, in the home and anywhere an Aquarium can be found like apartments where there is no space for gardens. Its more important now than ever that kids learn about how nature works, how nutrients get cycled and how to create living ecosystems and grow food. The Aquarium Garden DIY Aquaponics Kit makes this all possible from just $12 at the Early-Bird Price! But get in early as this price wont last. Help share this campaign with friends and family who you know will love the Aquarium Garden.
Lets grow the movement together.